Forest & Wildlife Department Gurugram Project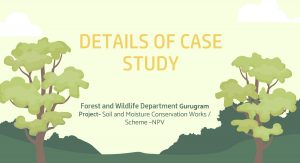 Location / Project Site (State)-
In the endeavor to conserve soil and moisture, 3 ponds have been dug at Rojka Gujjar in the area notified under sections 4 &5 of Punjab Land Preservation Act,1900.
Surya Mandir Johar, Rojka Gujjar
Kankar wala Johar. Rojka Gujjar
3.Bada Mandir Johar, Rojka Gujjar
Latitude Longitude of Project Site-
1.28021'00.7"N, 77008'06.2"E
2.28018'54.5"N, 77008'55.7"E
3.28019'37.1"N, 77008'39.0"E
Useful stats and facts about the region
The work was started in the year 2020-21. After a hydrological assessment, suitable sites were selected for ponds to have an optimum location for the purpose of storage of runoff during the rainy season and ground water recharge.is done.